Hello Lovely Ladies, March 2019 
Praise God we are well into 2019! It seems like just yesterday that we were celebrating the New Year and now we are almost in the middle of March already. Is it just me or does time seem to go faster as we get older? We know that time is a precious gift from God and we must learn to value it, so I pose this question, what are you doing as a woman with this gift that you have been given? Let's make March (and every Month) matter. 
Blessed are those who keep justice, And he who does righteousness at all times! Psalms 106:3 NKJV 
March is Women's History Month! It recognizes Women's contributions and achievements to the world. In honor of Women's History Month, we are focusing on two of our own mighty women of God who are serving and sharing the Good News while making a difference in our communities. 
Pastor Sandra Crouch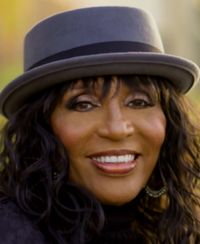 Grammy Award winning producer/musician/singer Pastor Sandra Elaine Crouch was one of the most sought-after percussionists in the 70s, 80, 90s and early 2000s across all genres. She continues to get calls to add her stellar signature tambourine sound to recordings. Also known for her writing skills, she has penned songs such as "He's Worthy," "Completely Yes," "We Need to Hear from You" and co-written songs with her twin brother Pastor Andrae' Crouch, such as "Jesus is the Answer." A legendary choir director for film and recordings, Pastor Sandra has the honor of being the first woman ever to produce the live gospel segment of the prestigious Grammy Awards. She enjoys gardening and has been known to share her harvest with family, friends and members of her congregation. In addition to being musically gifted, Pastor Sandra is an up and coming artist whose work has caused comparisons to some of the greats. She is an adored preacher and motivational speaker with followers in the United States, as well as the over 74 countries she has traveled. Pastor Sandra endeavors to continue the vision with passion by being committed to training and sending believers into the world for fulfillment of The Great Commission and to serve the needs of people. 
Pastor La Vern L. Moore 
Pastor La Vern, as she is affectionately called, and her parents, and siblings (5) joined Christ Memorial in July, 1960. She and her sister Deborah , are the only members to have achieved more than 58 years of consecutive service at Christ Memorial. Under the tutelage and early training of Bishop Benjamin and Mother Catherine Crouch, they learned the fundamental truths of God's word. As Associate Pastor and Director of the Women's Ministries, she and her family have played a pivotal role in the building of this ministry in the Northeast San Fernando Valley. She is a firm believer of the mantra: " See a need and fill it." For more than 25 years, she has been Director of Finance at NCMC and recently returned to Chair the Board of Directors. She has often said that Christ Memorial was the third child she did not have, because of her love, commitment, and desire for God's best for this ministry. She is the proud mother to her daughter, Shindana Neal-Monroe and son, Shalmar Howard Neal. As all mothers, she wishes God's best for them and that they allow Jesus to be their Lord and Savior. After 27 years at Bank of America, Pastor La Vern left as a Vice President and Administrative Manager, to join her brother, James, to provide business consulting to his 
residential long term care facilities. In April, 1998, the family purchased the business more than 20 years ago to meet the needs of developmentally challenged and frail/elderly individuals in the Compton /Lynwood serving areas. The two companies employ 60 employees and service 82 participants. La Vern is the Executive Director and Managing Shareholder of both Lynwood Developmental Care and Compton Adult Day Health Care, Inc. 
In all thy ways, acknowledge Him, and he shall direct your path. Proverbs 3:6. 
March is also American Red Cross Month: In addition to celebrating Women's History Month, we also celebrate American Red Cross Month. The American Red Cross was founded and dedicated to serving people in need in 1881 by a woman, Clara Barton. In 1943 President Franklin D. Roosevelt first 
proclaimed March as American Red Cross Month to raise awareness of the organizations humanitarian mission. As NCMC partners with the American Red Cross, we remind you to take this time of year to help secure your family and home by checking the batteries in your smoke alarms 
and practicing an escape plan in the event of a fire in your home. Save the Date: On June 22, 2019 the American Red Cross will perform free home smoke 
alarm installations and escape plans for the NCMC congregation, friends, and neighbors 
in the Pacoima and San Fernando areas. Sign up information will be provided in the near future. See Sis Linda for details or email ncmcwomensministry@gmail.com. 
Happenings this month: 
• Saturday, March 23, 2019, NCMC Women's Ministry Fellowship 10:00am - 12:00pm. 
Remember: Name the Newsletter Contest 
• Alvin Ailey tickets on sale for Saturday, April 6, 2019 2:00pm (deadline to purchase 
tickets 03/15/19) 
March Birthdays: 
Happy Birthday Pamela Haywood and Tracy Jackson-Pendleton! Happy Birthday to you, 
and if you are not listed here, Happy Birthday to you too! 
Thank you and God bless you, 
Lisa Brown 
NCMC Women's Ministry Coordinator