Hello Lovely Ladies,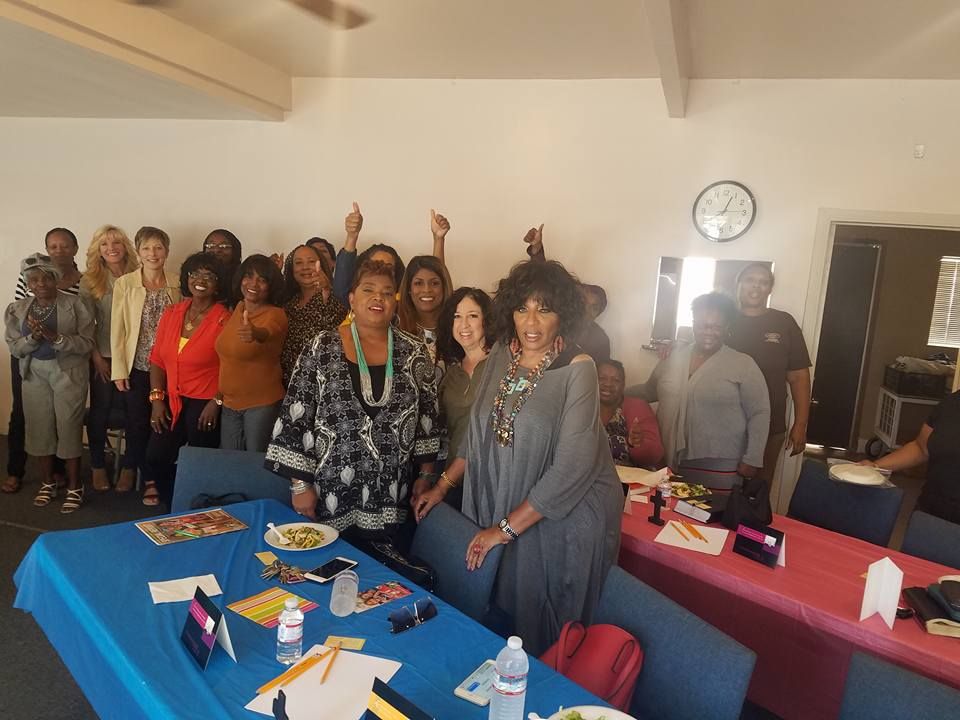 Praise God, we are here! We are one full month into the New Year and what a year it has already been. We have seen some unbelievable things thus far; the longest Government Shutdown, LAUSD's Teachers' Strike, and the record-setting extreme weather most of the Country recently experienced. If that is not enough to give your life to Christ, I don't know what is. But through it all, because we walk by faith and not by sight, we at NCMC completed a successful 21 day Daniel Fast which culminated in a prayer shut in and Jericho march. Our God is a mighty God, so stay in the Word, stay prayed up, and covered in His Blood! Hallelujah! 
I would like to thank all the Ladies that came out to our January Fellowship meeting. Also, thank you to everyone who joined us at the Valley Performing Arts Theater for Damien Sneed's Concert Tribute to Dr. Martin Luther King Jr. on January 26th. It was wonderful! We were truly blessed with great performances and awesome upgraded seats- Yes, that was Favor! Praise God! 
The month of February is known for several things, like being the shortest month of the year having only 28 days, celebrating Black History, and also Valentines Day; the day to celebrate love. Well we as Christians have a reason to celebrate love everyday of our lives and not just on February 14th- John 3:16,
"For God so loved the world
that He gave His only begotten Son
that whosoever believes in Him
shall not perish, but have everlasting life."
This is definitely a reason to celebrate love everyday of our lives! I challenge you to let love dominate your lives, tell someone daily that you love them, you never know, that may be the only time they hear it. 
NCMC Happenings this month: 
 
• On Saturday, February 9, 2019 from 10:00 am-1:00 pm Panorama Baptist Church is hosting 
their Women's Health, Beauty and Wellness Fair. They are offering health screenings, raffles 
and various booths for your mind, body and soul. I will be there sharing information on 
NCMC Women's Ministry, so please come out and support (rain or shine). Panorama Baptist 
Church is located at 8767 Woodman Ave, Arleta CA 91331. 
• Saturday, February 23, 2019 (4th Saturday) NCMC Women's Ministry Fellowship Meeting 
10:00 am-12:00 pm. 
• Reminder: Name the Newsletter Contest. Bring your entries for a chance to when $50. 
Here's a few Happenings around Los Angeles this month that might interest you: 
• February 7-18, 2019 Pan African Film Festival at the Cinemark BHC ( paff.org ) 
• February 10, 2019 Barracoon: A Tribute to Zora Neale Hurston at the Skirball Cultural Center 
(skirball.org) 
• February 13, 2019 Black Composers Songversation (their word not mine's) at the California 
African American Museum (caammuseum.org) 
Upcoming Events: 
 
• Fellowship Outing: Alvin Ailey Dance Theater at the Dorothy Chandler Pavilion on Saturday 
April 6, 2019 at 2:00 pm (please let me know if you are interested soon) 
• NCMC Walk-a-Thon Fundraiser sponsored by the NCMC Ushers Board (date to be 
announced) 
 
February Birthdays: 
 
Happy Birthday Mother Norma Haywood! 
A Happy Birthday shout-out to you, and if it's your birthday month and you're not listed here, 
Happy Birthday to you too! 
 
Black History Month Focus: 
Isabella Baumfree aka Sojourner Truth was an African American evangelist, abolitionist, 
women's rights activist and author who was born into slavery in 1797 and served several slave 
owners throughout New York before escaping to freedom in 1827. After gaining her freedom, 
Sojourner became a Christian and believed God called her to preach about abolitionism and 
equal rights for all. This was highlighted in her stirring speech "Ain't I a Woman?", delivered at a 
Women's Rights Convention in Ohio in 1851. She continued her fight for equal rights for the 
rest of her life, earning an audience with President Abraham Lincoln and becoming one of the 
world's best-known human rights crusaders. She went home to be with the Lord on November 
26, 1883. Find out more about Sojourner Truth at womenshistory..org
Thank you, I love you, and God Bless you! 
Lisa Brown 
NCMC Women's Ministry Coordinator